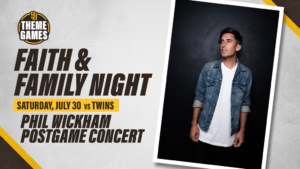 Join us and other churches from around Southern California for Faith & Family Night on Saturday, July 30th at 4:15 PM when the Padres take on the Twins. Tickets are $27.00. Please sign up below and pay online.
Meet in Gallagher Square after the game for a Q&A, testimonials with players, and a post-game concert featuring national recording artist and contemporary Christian musician from San Diego, Phil Wickham!
Please email Pastor Jeff Hudgins if you have any questions at jeffh@lwcpoway.com.