Weekly Bible Study
In Acts 2:42 we find that the early Church "devoted themselves to the apostles' teachings, to fellowship, to the breaking of bread and to prayer." In other words, they were committed to learning the things of God, they were dedicated to building a culture of supportive community, open acceptance, and embracing love where relationships could flourish and thrive, and they were determined to seek God through prayer! The result of this was that "Everyone was filled with awe, and many wonders and miraculous signs were done by the apostles."
And so, we invite you to join us as we imitate what we see in this verse. Join us as we devote ourselves to the captivating Word of God, to a community of active love, and to the mighty work of prayer, then watch and see how God fills your life with His displays of awesome power!
Women's Bible Study-9:45 AM
Topic: Becoming a Woman of Grace
Contact: Tahne Gollwitzer
Please call the church office at (858) 486-1441 for more information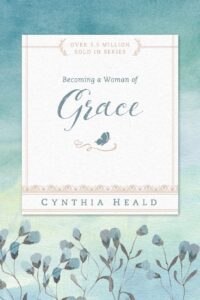 Prepare to discover a new level of meaning and amazement in your spiritual journey as God's grace becomes more real to you than ever before.
In this inspirational study, bestselling women's author Cynthia Heald guides you on a life-transforming journey into the boundless riches of God's grace. Together you will explore the many ways in which God's grace enriches your Christian walk, how to know His grace more fully, and how to extend His grace to others moment by moment, day by day.