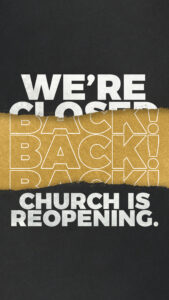 Health and Safety Plan for Sunday Services
The mission of Living Way Church is to give good news and be great neighbors. In seeking to fulfill that mission we are instituting new standards for our gatherings at Living Way Church facilities. These standards are effective beginning May 31st, 2020 and will continue until further notice. These standards may be extended, modified, or sooner terminated and the standards in effect will be posted at LWCPoway.com. The objective of these standards is to create as safe and welcoming an environment as possible for people to come and hear the gospel of Jesus Christ and to worship him.
Given the nature of the novel coronavirus known as Covid-19, and the unknowns that remain regarding how the virus is spread, Living Way Church will be implementing the following procedures for all of our Sunday gatherings on site. These procedures will be evaluated on a regular basis as we endeavor to follow the published orders applicable to churches as issued by the County of San Diego Health and Human Service Department.
ATTENDEE EXPECTATIONS
Any person (including a volunteer or LWC employee) who has tested positive for Covid-19 during the preceding 14-day period or who currently has a fever, chills, deep cough, loss of taste/smell, or trouble breathing will not be permitted entry into the EC or sanctuary building and must stay at home.

For individuals who are not of the same household, please refrain from physical contact (e.g. hugs, handshakes, and high fives, etc.).

Please observe the recommended physical distancing minimum of 6 feet.

Please wear a mask when potentially within 6 feet of others and during the singing portion of our worship service. Masks will be made available for those who do not have one.

Please avoid congregating in the foyer and hallways of the church sanctuary. Fellowship should primarily take place outdoors.

Attendees are encouraged to wash their hands with soap and water frequently and to use hand sanitizer when hand washing is not readily available.
FACILITIES STANDARDS
All touchable hard surfaces in the sanctuary, foyer and restrooms will be disinfected before and after each service.

Indoor/Outdoor seating arrangements will have designated spacing requiring physical distancing between members who are not in the same household.

Indoor/Outdoor seating arrangements for higher risk individuals will be designated with even greater physical distancing spacing.

Hand sanitizers will be available throughout the facility.

Most doors will remain open whenever possible to allow attendees to avoid contacting door handles and to allow for increased ventilation.

The capacity of the main sanctuary will be limited to 100 individuals. The capacity of the EC building will be limited to 50 individuals.
VOLUNTEER STANDARDS
All volunteers will be pre-screened before each service, including temperature checks.

All volunteers will be required to wash their hands at multiple intervals, upon the direction of team leaders.

All volunteers other than worship leaders will wear masks when conducting their volunteer duties.

All volunteers will refrain from physically contacting any members.
USHER AND GREETER TEAM STANDARDS
All ushers and greeters will wear masks while doing their assigned duties.

Gloved volunteers will open specific doors so as to allow members to avoid all physical contact with door handles.

Ushers will help direct the flow of attendees through the foyer and hallways in order to limit time spent within 6 feet of others.

Offerings will be collected via the offering box located in the foyer. An usher will be assigned to watch over the box.

Ushers will follow newly designed communion protocols.
COMMUNION STANDARDS
The communion elements will be prepared by a masked and gloved individual.

Single pieces of bread will be pre-placed in a plastic cup.

Each tray will hold about half the ordinary number of cups with empty spaces between each cup.

Each tray will be distributed by a masked usher who will be the only one holding the tray and who will walk in the empty rows between seated members.
HOSPITALITY TEAM STANDARDS
LWC is temporarily suspending the donuts and coffee hospitality.

Individuals are welcome to bring their own beverages.

Bottled water will be made available.

Bread will be distributed by a dedicated, masked and gloved volunteer.
PRAYER TEAM STANDARDS
Pre-service prayer will be conducted outside so as to avoid time spent indoors.

For altar ministry the volunteers will wear a mask.

Group personal prayer will be done from beside or behind and not face-to-face.

The Elders of the church will provide the laying on of hands in prayer upon request by an attendee. All other prayer team volunteers will refrain from physical contact.
WORSHIP TEAM STANDARDS
All attendees from outside the same household will be spaced apart from each other while on stage.

All non-singing team members will wear masks while on stage.

All microphones will be held and used exclusively by a single team member and will be disinfected before and after each service.

Only 2 people will be permitted in the sound booth at a time.
CHILDREN'S MINISTRY STANDARDS
All nursery and children's ministry services remain suspended temporarily.

The EC building, and back rows of the side sections of the sanctuary will be designated areas for families with children.

The EC building will feature a live stream of the service and will have separated seating for up to 50 individuals.

The nursery will be accessible for limited parental duties such as feeding and diaper changing. No toys will be made available for children.