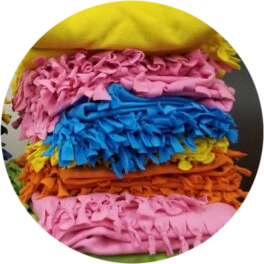 What is Tabitha Ministries?
Named for Tabitha, a disciple of Christ mentioned in the Bible, (Book of Acts, Chapter 9) who was always "doing good and helping the poor," this ministry blesses others with hand-created items.
At our meetings we currently create no-sew fleece blankets. Some of our supporters also sew fabric layette bags, pillowcases and make crocheted or knitted items including washcloths, blankets and adult or baby hats

.
We invite you to join us! We meet on the the third Monday of every month in our Education Center at 6:30 PM. This month's meeting will be on Monday, August 16th. Anyone 13 years and older are welcome. You may contact Sylvia Pierce for more information at sylpie@cox.net.