Youth Group
Living Way Church Youth Ministry exists to introduce Jr. High and High School Students to a saving faith in Jesus Christ and to then provide them with the tools for spiritual growth where they will have the opportunity to develop a relationship with God and others that will influence the community around them.
Our youth meet every Saturday night from 6:00 to 9:00 PM. They gather together to participate in worship, hear God's Word and have lot's of fun spending time together. Our youth group is designed for Jr. High and High School students.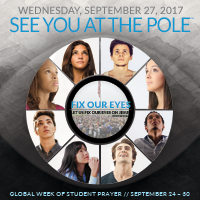 See You At The Pole launches the school year by encouraging Christian students to start strong – committing themselves and their relationship to the Lord by gathering together to pray for their school, friends, families, churches and communities.
See You At The Pole will be on Wednesday, September 27th at your school's flagpole 45 minutes before first bell. If you are in Jr. High or High School we encourage you to participate and if you need help getting to school early please contact Jeff Hudgins at jeffh@lwcpoway.com.