Weekly Bible Studies
In Acts 2:42 we find that the early Church "devoted themselves to the apostles' teachings, to fellowship, to the breaking of bread and to prayer." In other words, they were committed to learning the things of God, they were dedicated to building a culture of supportive community, open acceptance, and embracive love where relationships could flourish and thrive, and they were determined to seek God through prayer! The result of this was that "Everyone was filled with awe, and many wonders and miraculous signs were done by the apostles."
And so, we invite you to join us as we imitate what we see in this verse. Join us as we devote ourselves to the captivating Word of God, to a community of active love, and to the mighty work of prayer, then watch and see how God fills your life with His displays of awesome power!
Our Women's groups meet on Wednesday mornings and again on Thursday evening. These groups provide a refreshing discipleship opportunity for the women in the church.
Thursday Evening Bible Study
6:30 PM West Room, Living Way Church
New 7-week Study begins June 7, 2018.
Join us for a video led Bible Study titled, "We saved you a seat," by author Lisa-Jo Baker.
In today's busy world, we're wired to appear "fine," warding off authenticity and shielding ourselves from judgment but we yearn for authentic relationships. This study on friendship unpacks seven practical ways to take Jesus up on His invitation to love other people by being the friend who makes the first move.
The book has personal study and friendship challenges to be completed during the week between sessions. The cost of the workbook is $13.00. Please contact the church office for more information.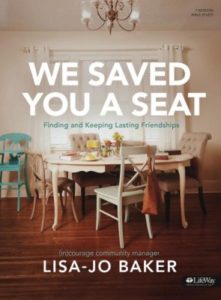 Wednesday Morning Bible
Study
9:45 AM East Room, Living Way Church
This group is on break for the summer. Check back in August for new information.
Join us for worship, Bible Study, discussion and prayer time with your sisters in Christ.