Weekly Bible Studies
In Acts 2:42 we find that the early Church "devoted themselves to the apostles' teachings, to fellowship, to the breaking of bread and to prayer." In other words, they were committed to learning the things of God, they were dedicated to building a culture of supportive community, open acceptance, and embracive love where relationships could flourish and thrive, and they were determined to seek God through prayer! The result of this was that "Everyone was filled with awe, and many wonders and miraculous signs were done by the apostles."
And so, we invite you to join us as we imitate what we see in this verse. Join us as we devote ourselves to the captivating Word of God, to a community of active love, and to the mighty work of prayer, then watch and see how God fills your life with His displays of awesome power!
Our Women's groups meet on Wednesday mornings and again on Thursday evening. These groups provide a refreshing discipleship opportunity for the women in the church.
Wednesday Morning Bible
Study
9:45 AM East Room, Living Way Church
Join us for worship, Bible Study, discussion and prayer time with your sisters in Christ.
Our new Bible Study book for the fall session of 2018 is from Women of Faith, Bible Study Series, Finding Rest In A Busy World.
In
Finding Rest in a Busy World,
you will explore what the Bible has to say about the importance and value of rest. You will learn ways to recognize if your schedule has gotten out of control and how you can apply the brakes to restore healthy boundaries in your life. Even more, you will discover how God promises you can rest in who He is, what He's done for you, and what He
will
do for you.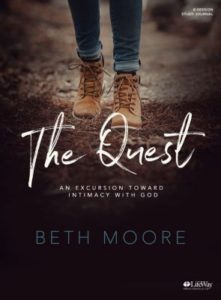 Thursday Evening
Bible
Study
6:30 PM East Room, Living Way Church
Join us for the video driven Bible Study; The Quest by author Beth Moore.
In this 6-session study, delve into Scripture to explore how God created us to seek after Him—a God who desires to be found and known. In this lifelong quest of faith, learn to develop your intimacy with Him and embrace the adventure that comes with living a life for God.