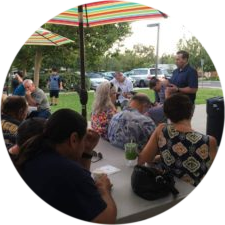 We've had a great time of fellowship and worship these past two months. We invite you to join us for our last Potluck & Praise night of the summer this Wednesday, August 16th. We will start the evening off with a potluck dinner at 6:00 PM and continue with an evening of Praise and Worship. Please bring a main or side dish to share. Mark your calendars for a fun and worshipful night together!

Join us for our last Beach Day of the summer, this Tuesday, August 15. We meet at La Jolla Shores, just north of the main lifeguard station. We will conclude with a Water Baptism Service at 6:30 PM. If you would like to be baptized, please contact Jeff Hudgins at JeffH@lwcpoway.com or call the church office at 858-486-1441.

Start perfecting your perfect pot of Chili for this year's 5th Annual Chili Cook Off. Come on out as we end the summer with a chili, chili, bang, bang on September 3rd at 5:00 PM.
This is a great time to invite your family, friends and neighbors to church.
Anyone can enter. All contestants must register by August 27th. Registration forms are available at church or you may call the church office at 858-486-1441.